Stainless Steel Rope Barrier
Stainless Steel Rope Barrier
?>
Brand :XYX or OEM
Product origin :Foshan, China
Delivery time :25days
Supply capacity :1000 pieces per month
Model no.: YG-01
Metarial of post and cover: Stainless steel
Counterweight: rubber and cement
Size: 320 x 63 x H950mm
Color of rope: black, blue, red
Finishing: Polished.
Color: gold or silver
Length of belt: 1520mm, 5ft
Stanchion, also named Retractable barrier, belt barrier or belt stanchion. Rope standions is the ulimate stylish crowed control guidance system. This crowd control systems are suitable for use wherever people come together. Such as airports, train stations, stadiums, banks, large-scale factory workshops, hospitals, subways, shopping malls, museums, warehouses, garage entrances, check-in queues and an endless list of places.

Our heavy duty metal stanchions included customized finishing choiceto match the variety decor in any setting. All of XYX METAL rope stanchions are many-chioces in three post top options as crown, ball or urm top. Base (it include heavy duty balance weight and cover) are available in flat style, dome style or in a permanent. Match a customized stachions below with ropes options.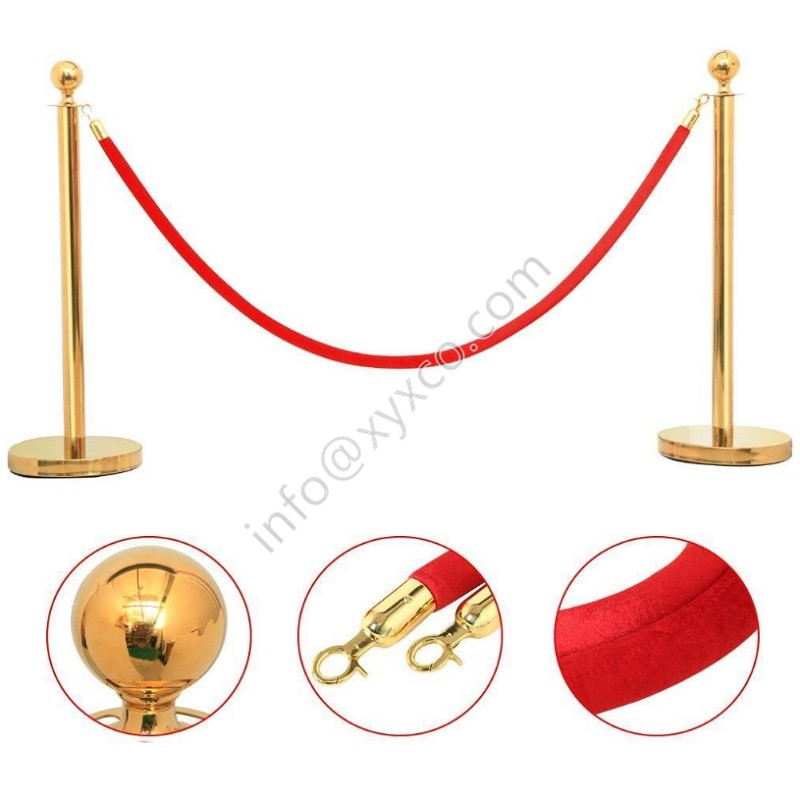 Ball Top Rope Stanchion (YG-01)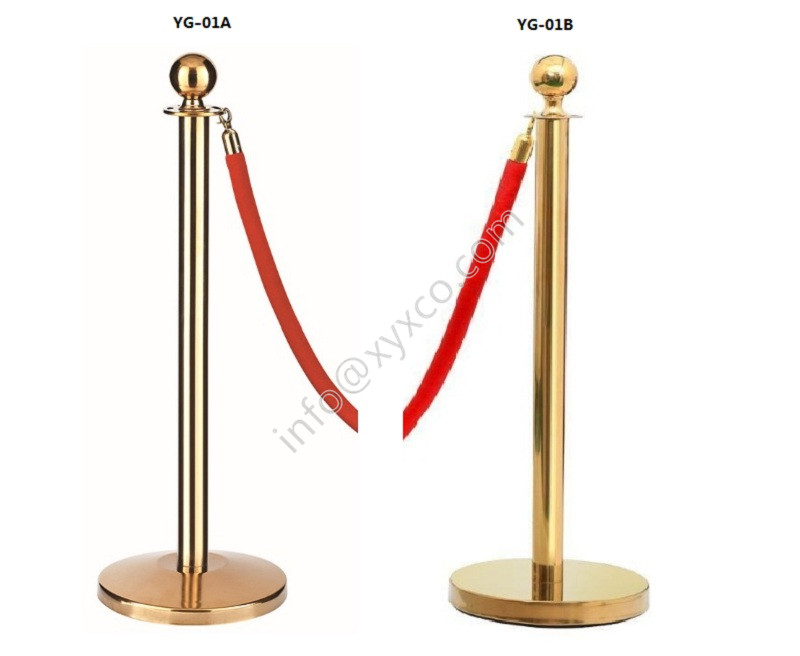 Flat Top Rope Stanchion (YG-03)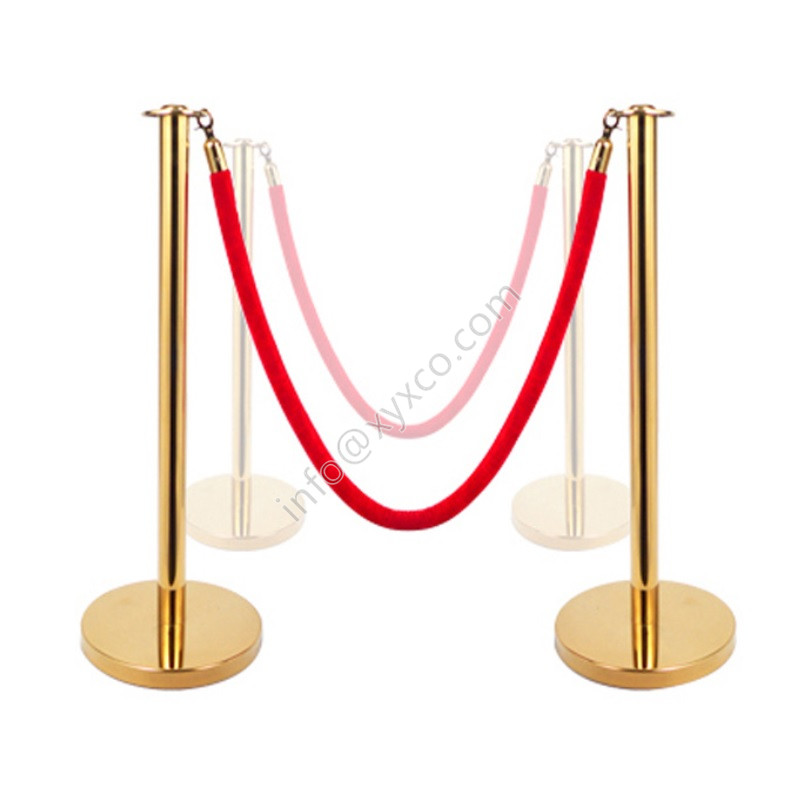 Crown Top Rope Stanchion (YG-02)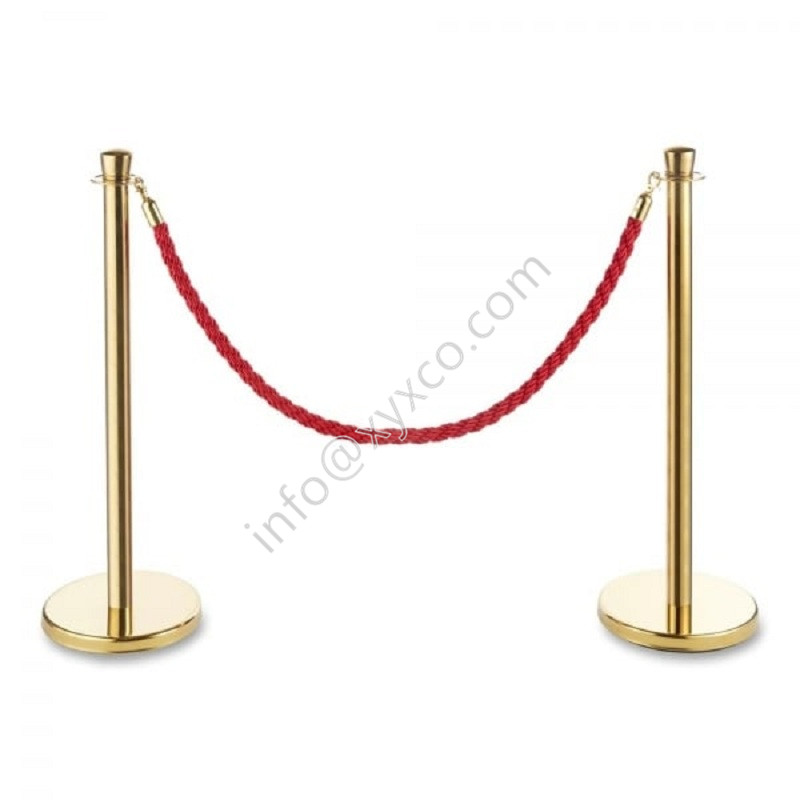 Feature
POLISHED GOLD FINISH - The gold finish adds a touch of luxury that will enhance any high class restaurant, hotel or nightclub.
HIGH-QUALITY MATERIALS - Each post is solid and durable, with a beautiful twisted rope with matching gold-effect hooks.
4-WAY ATTACHMENT - With the multi-directional rope attachment you can position up to four ropes to create runs or corners depending on your requirements.

WEIGHTED REMOVABLE BASE - The weighted base ensures your stand is secure, and is removable to make transportation easier. Ideal for managing crowds in exhibitions and trade shows.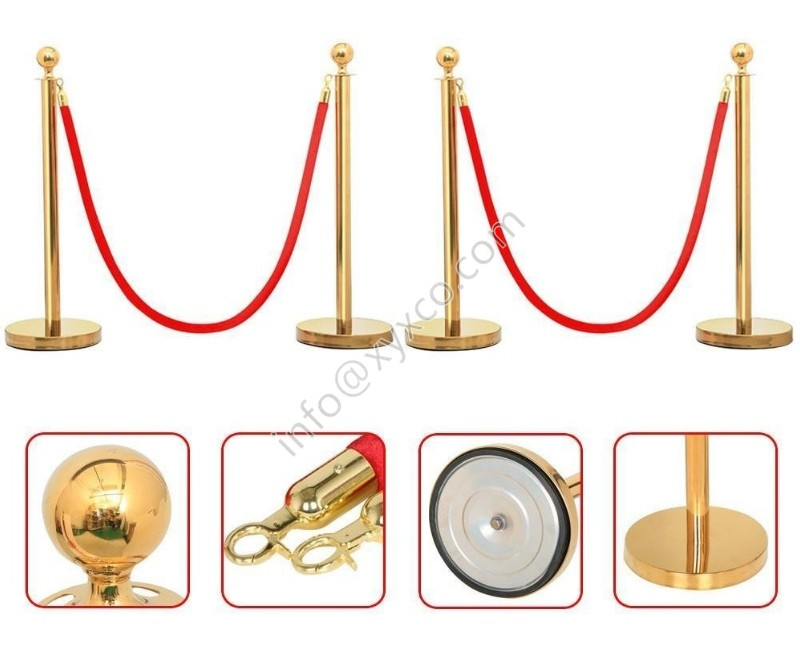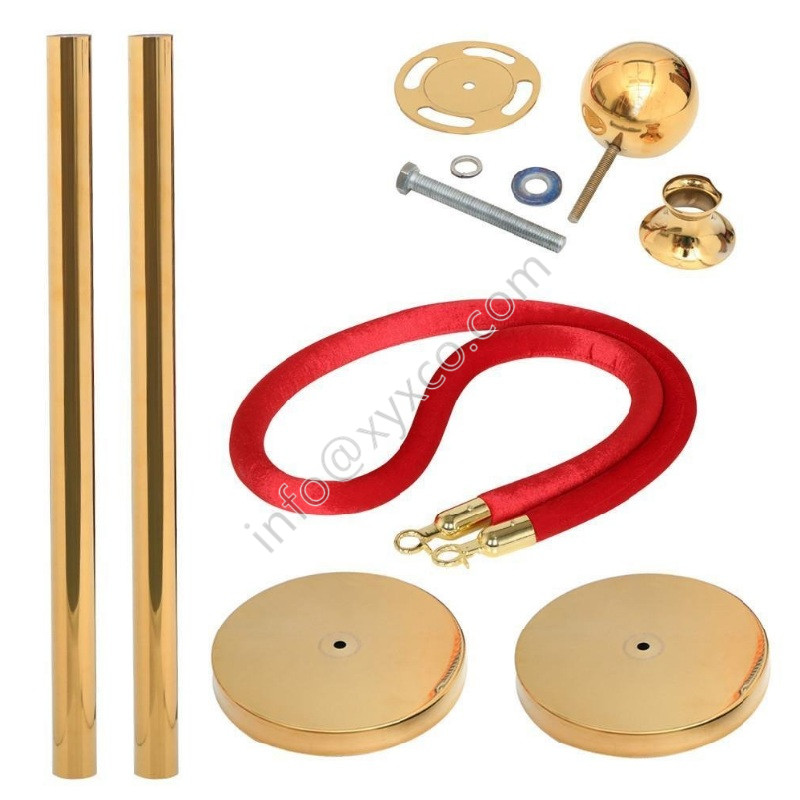 Specifications
Retractable Belt: 1520 mm, or customized length
Pole Diameter: 63 mm.
Height: 950 mm.
Base Diameter: 320 mm. (350mm base is available)
Material: Stainless steel(pole and base cover),
Rubber and cement (counterweight)
Color: Stainless steel color, Titanium gold
Net Weight: 6.8 Kg.
Packing: Cartons
Pole: Every 20 pieces per carton
Base: Every 20 pieces per carton
Balance weight: Every 5 piece per carton
Option 1. Base style: flat or cone
Option 2. Base Diamater: 320mm or 350mm
Option 3. Post thickiness: 0.6mm or 0.8mm
Option 4. Length of belt: 1520mm, or 2000mm
Option 5. Gold or rose gold color
Option 6. With metal bottom plate or out
Option 7. With velvet rope or twisted rope

Velour (Velvet) Hanging Ropes and Twisted Polypropylene Ropes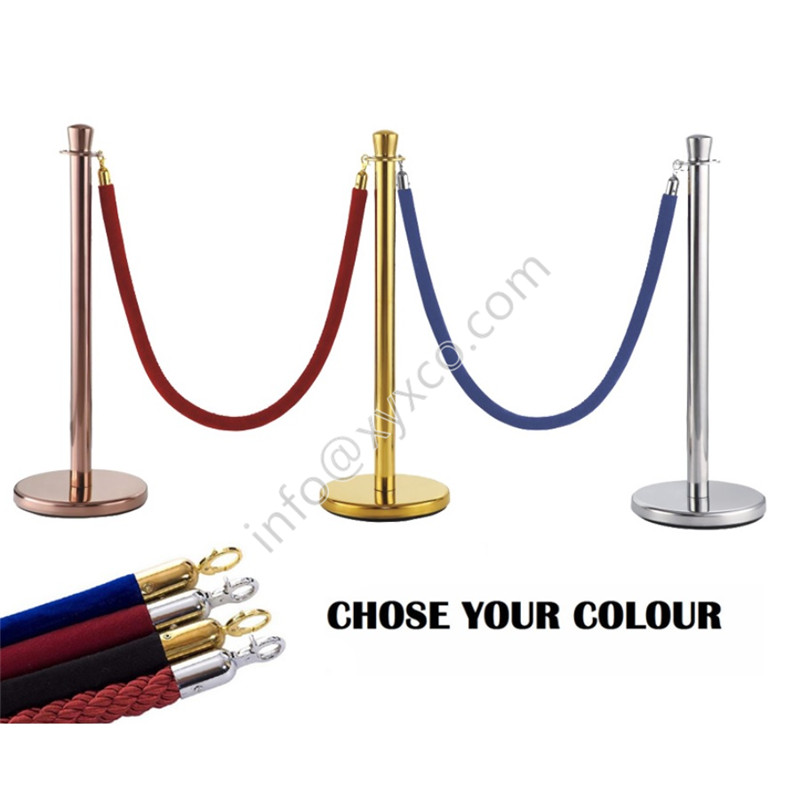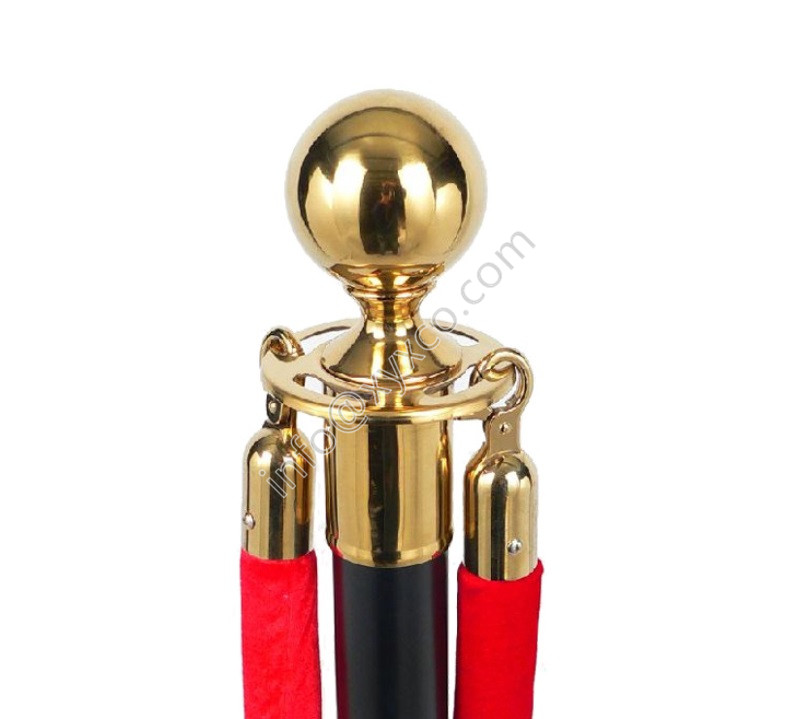 More details information
1. Model No: Yg-01
2. Dimensions: B.D320 x D51 x H950 mm
3. Finishing: Mirror polished Gold
4. Effective length of belt: 1.5m
5. Unit N.W: 6.8 KG
6. MOQ: 200pcs
7. Shipping port: Shenzhen, China
8. Trade Term: FOB or CIF
9. Unit FOB price is US$13.80 to US$18.60
10.Payment term: 30% TT in advance, 70%TT balance against before loading
11.Lead time: 10 days for a sample, 25days for 200pcs.
12.Welcome to inquire us for more models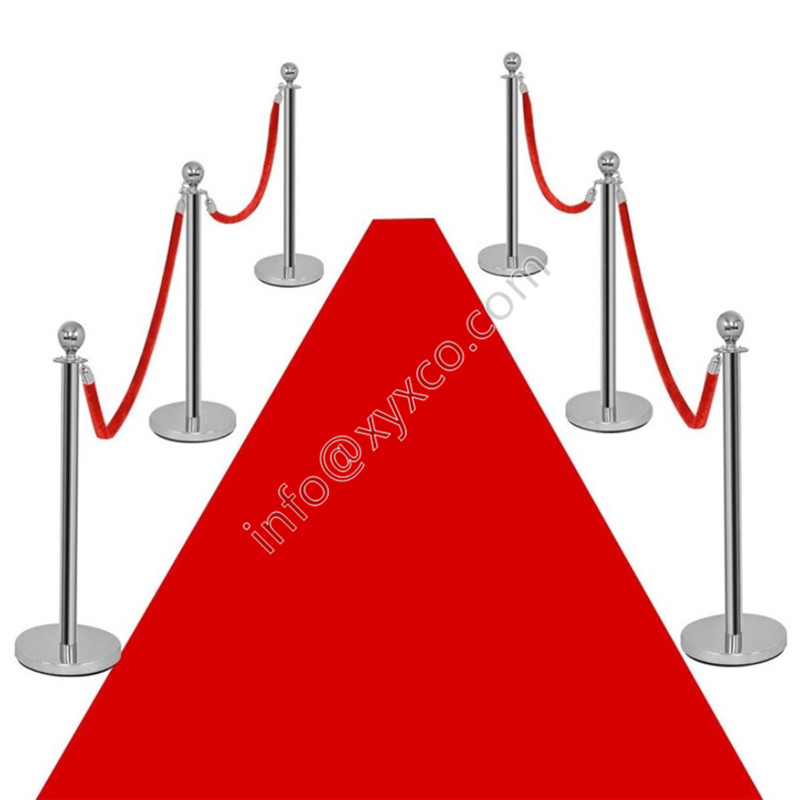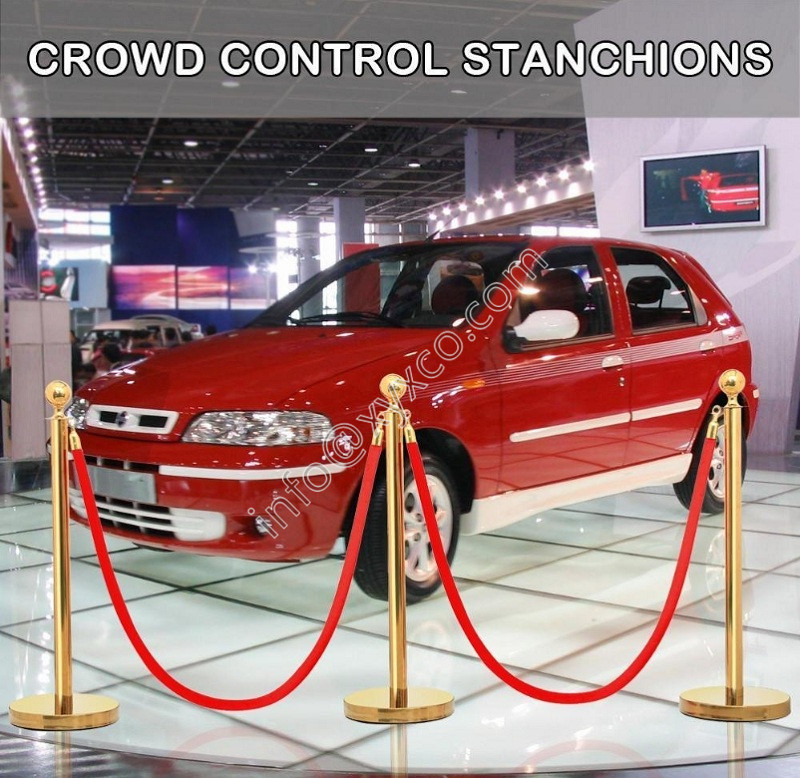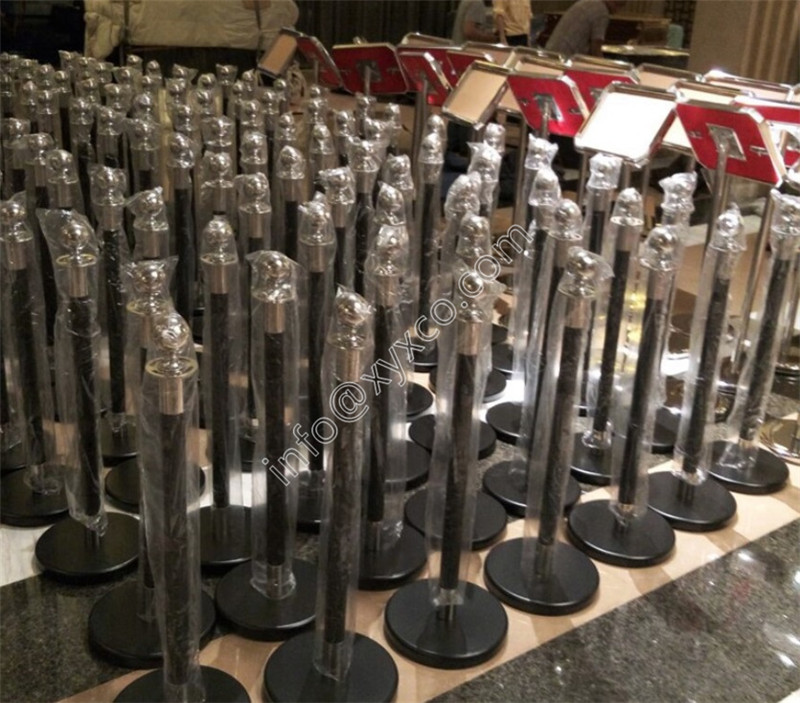 All our products can be customized. Usually we start from design structure and size for customers. At this stage, you need to tell us you main requirements, using environments and demand qty. It will be better if you can send us a sample. We can also provide the design for you information. After you checked, we will offer you details quotation with our latest price.
...more
Get the latest price? We'll respond as soon as possible(within 12 hours)